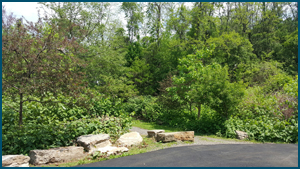 The Emerald View Park (EVP) Committee is a volunteer committee established by the MWCDC to serve as a first point of contact for public input on Park-related issues. The committee provides feedback on projects in EVP and/or those that affect the park, builds a strong EVP constituency, and host events & volunteer days as desired by the committee.
The committee is chaired by a MWCDC Board Member.  Committee members are asked to commit to attend 75% of the meetings in a calendar year to maintain committee voting privileges.
All committee meetings are open to the public.
2017 Emerald View Park Committee Meetings
The Emerald View Park Committee meets on the second Wednesday of every other month at 5:30 PM in the MWCDC office at 301 Shiloh Street.
January 11  Agenda
March 8 
May 10 
July 12
September 13 
November 8 
For more information about Emerald View Park hikes or to Volunteer in the Park, please visit the Pittsburgh Parks Conservancy