The Mount Washington Community Development Corporation is a 501 (c)(3) nonprofit, community-based organization focused on the development of the Mount Washington and Duquesne Heights neighborhoods in Pittsburgh, PA.  The MWCDC works with partners in the local community, the City and the region to bring investment and development to Mount Washington and Duquesne Heights, while advocating for supports and services to improve the quality of life and safety of the community.
We seek to bring together residents and business owners in Mount Washington and Duquesne Heights to cultivate growth, development and investment toward an even stronger and more livable community.
Community development is about connecting people to the resources and opportunities in the community that allow them to live, work and play well.
Much of the work we do at the MWCDC is often "behind the scenes" in meetings and conversations with people and organizations throughout the region. As part of the larger conversation about quality of life and public safety in Pittsburgh, we strive to bring the concerns and needs of Mount Washington and Duquesne Heights to the attention of government officials, stakeholders and funders. Through these partnerships, we advocate for the community's interests and work to bring positive initiatives to our community.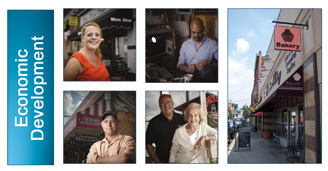 Our neighborhood is an exciting place for businesses and developers. We work to connect new and existing businesses, with funding resources, professional services and technical support; while promoting Mount Washington and Duquesne Heights throughout the region to attract jobs, commerce and new residents to the area.
The MWCDC works with organizations like the Urban Redevelopment Authority (URA) as well as local developers on projects ranging from the renovation of blighted residential properties to attract new home buyers, to the redevelopment of storefronts to fit a new business' needs. We also advocate for infrastructure improvements and city services for our community to help Mount Washington and Duquesne Heights to thrive. We recently worked with the Port Authority to include Mount Washington on public transit routes, increasing visitors and commerce in the community, while also helping residents receive better access to transportation.
Since 2006, more than 16 new businesses have been established, more than 100 jobs were created and millions of dollars have been invested in the community. We are continually working to improve the vitality of the business district and encouraging increased commercial investment in Mount Washington and Duquesne Heights. In 2017, we will increase our development efforts to support the attraction, retention and expansion of new and existing businesses in our community.